TopCasino.com
>
United States
> New Jersey
New Jersey Online Casino Guide
Learn About Legal Online Casinos & Gambling in the State of New Jersey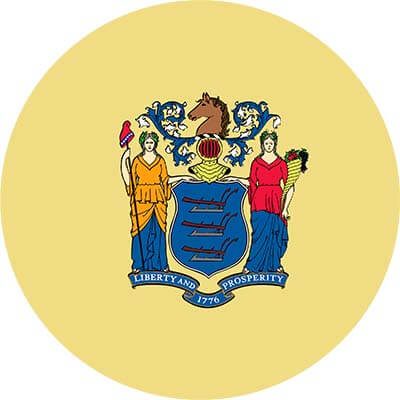 On this page you can learn in a nutshell all there is to know about online gambling in the state of New Jersey. This section starts with a brief history of land-based and online gambling in New Jersey, and it also includes the latest online gambling laws in New Jersey, along with the benefits of playing in New Jersey, a useful FAQ section and highlights. I've also included a section further down that covers problem gambling help in NJ. The good news is that casino gambling in the Garden State is legal at both land-based casinos (age 18+) and online casinos (21+).
On this page you will find:
Expand +
Listing of Top Legal New Jersey Online Casinos
Below is a listing of all available online casinos within the State of New Jersey where you can play legally if you are playing from within the State.
Gambling History in the US State of New Jersey
Pretty much all forms of gambling activities were in effect outlawed between the period of 1894 and 1939, but the authorities didn't come down particularly hard on the operators of such gambling venues, and this gave residents of NJ mixed feelings as to whether gambling was actually prohibited or not. At the time, the main forms of gambling that were most prevalent were slot machines at land-based venues, sports betting/bookmaking and numbers games, plus you could also take part in bingo at churches, and other similar venues were people gathered.
Freehold Raceway is a horse racing track that was officially opened way back in 1854, but pari-mutuel gambling was eventually banned under New Jersey legislation that was implemented in 1894, and other forms of gambling were also eventually banned. Gambling on horses at such racetracks wasn't re-legalized in the state until 1939. Voters in the state also then went on to approve a referendum for bingos and raffles to be held at non-profit organizations, and then amusement arcades were re-legalized in 1959, just two years after they were declared an illegal form of gambling by an NJ court decision.
The next big stage in the history of gambling in New Jersey occurred in 1970 when NJ voted in favor of a referendum to create the official New Jersey Lottery, which later became known as Pick-3. It was the first lottery in the nation where people taking part could select their own numbers.
Yet another a new referendum occurred in New Jersey in 1976 and gambling at land-based casinos became legal. This came after state voters initially voted against legalizing casino gambling. However, under this new legislation, any new operators that were to obtain legal permission to develop a casino could only build in Atlantic City, which is now recognized as one of the world's major gambling hubs. The first such gambling venue that opened in Atlantic City was Resorts Atlantic City (1976).
With regards to online gambling in the state, a more revised bill permitting online gambling was implemented in 2013, and NJ became the second US state to legally allow online casino gambling (but it was the third state to legalize online gambling). It allowed land-based casinos licensed in Atlantic City to offer their services to online gamblers, and other casino brands beyond the city could also launch online casino and poker sites providing they were partnered with the owner of a physical casino such as Atlantic City Casino. They would now be regulated and licensed by the New Jersey Division of Gaming Enforcement (NJDGE). The New Jersey Legislature also passed a bill in January 2019 to allow certain other forms of online gambling to residents of New Jersey who are over the age of 21.
At the time of writing, there are just seven such operators that have obtained a license from the NJ Division of Gaming Enforcement, which allows them to offer real money online gambling services within the state. Caesars Interactive Entertainment, Inc. hosts several trusted online gambling sites such as 888 Casino, 888 Poker, WSOP.com, Harrahs Casino, and Caesar's Casino, plus there are currently around 40 individual different state-licensed sites where you can place a wager online in NJ, and also hundreds of offshore regulated online casinos accept real cash wagers from NJ players.
New Jersey USA Gambling & Online Gambling Laws
Online gambling is currently legal in New Jersey, and the main gambling sites are online casinos, sports betting websites, and online poker rooms. The law that ended up legalizing online casino gambling and online poker came in to effect on February 26th, 2013, and it's known as bill A257. You need to be at least 21 years of age to gamble at online casinos in the state of New Jersey, and you can only gamble online within the state's borders at sites that are specifically licensed by the New Jersey Division of Gaming Enforcement.
The good news is that you don't even need to be a resident to gamble at an NJ online casino or poker room. For example, it's possible to gamble when just visiting the state temporarily, but you still need to register your details with that particular site so that you can start gambling in the real money mode. After visiting NJ, you couldn't continue gambling at that site if you went back to your home state where online gambling is illegal.
Geo-location software will recognize your IP address, and it will know that you're no longer in NJ, so you won't be able to log in to your account. The sophisticated websites also employ technology that blocks the use of a VPN (Virtual Private Network), so if you try and switch on your VPN to make it seem as though your computer is in NJ, the software will recognize this too, and will also prevent you from signing in. Your account could even be frozen or blocked temporarily for trying to use a VPN.
It's also still possible for NJ residents to play at offshore regulated online casinos that are controlled by foreign owners, many of which are licensed by trusted licensing authorities that are based in one of several major jurisdictions around the world such as the UK, Malta, Gibraltar, Alderney, Kahnawake, and Curacao. At present, there are no laws that prevent you from signing up to (and playing in the real money mode at) an online casino that operates from outside of US borders, and the good news is that there are hundreds to choose from, although not all of them can be trusted.
Offshore operators who aim their business towards NJ residents are violating the law and can be prosecuted, but because they fall outside of US jurisdiction, it means that they are unlikely ever to be prosecuted and will continue to aim their business towards NJ residents until either the NJ state authorities somehow block that website or until the gambling website closes down. Operators must pay a 15% tax on gross gaming revenues to the state of New Jersey, and all gambling winnings are taxable under the Internal Revenue Code.
Online Casino Benefits to Players from the US State of New Jersey
There are many benefits of playing at legal New Jersey casinos, whether you are playing at a land-based NJ casino or an NJ online casino. All of these gambling venues (both online and offline) are owned & operated by some of the most trusted names from the online and offline gambling industries, and they are all fully licensed by the New Jersey Division of Gaming Enforcement (NJDGE). You never have to leave your home thanks to these exciting new gambling sites, and you don't need to travel to Las Vegas, Nevada, to play at a land-based casino because Atlantic City is right on your doorstep. NJ players today can also play at hundreds of offshore regulated online casinos.
There are hundreds of games for you to enjoy playing on at today's legal New Jersey casinos, and when playing online, you can generally choose between gambling in the real money mode and free play demo mode. NJ online casinos are available on desktop and mobile, and you can normally play instantly in your web browser, without the need to download any online casino software onto your desktop or laptop. Whenever a download option is available, the software can usually be installed onto most modern Windows operating systems in less than a couple of minutes. In more recent years though, I've noticed that the download option is starting to phase out and is becoming less available.
Don't forget that you can look forward to a guaranteed new player welcome bonus when you sign up to an NJ online casino, and there are lots of other benefits to look forward to as a frequent real cash player. After you've claimed your initial sign up bonus, you can also then take advantage of additional bonuses throughout the year, and you can often take part in prize-packed promotional offers to win real-world prizes such as the latest gadgets, casino bonuses, and luxury vacations. You can also earn redeemable points as you play, and the points that you collect can eventually be exchanged for casino bonuses, gifts, cold hard cash, and other rewards.
NJ players can also benefit from 24-hour, toll-free player support, with easy access to friendly and professionally-trained player support agents that can be reached via email, telephone, and live chat. These are just some of the major benefits of playing at any of the legal NJ casinos that have been reviewed and recommended for you right here on TopCasino.com.
FAQ Useful to Players from the US State of New Jersey
Is it legal to gamble in New Jersey?
Yes. You can gamble in New Jersey at land-based gambling venues (casinos, race tracks, bingo halls, etc.), and you can also gamble within NJ borders at online casinos that are licensed by the New Jersey Division of Gaming Enforcement (NJDGE). However, to gamble at land-based casinos, the minimum age required to gamble is 18, but for online casinos, it's 21+. Don't forget that it's also legal to gamble at offshore regulated online casinos.
How do I choose an NJ online casino?
The best thing to do when choosing an online casino would be to check that it's fully licensed, either by the NJDGE, or if you're playing at an offshore regulated online casino, by the UK Gambling Commission, by the Gibraltar Regulatory Authority or the Malta Gaming Authority. Online casinos that are licensed in Curacao, Kahnawake, Alderney, Antigua and Barbuda, and the Isle of Man can also be trusted. Also, make sure that the casino is controlled by a trusted operator with a proven track record, and that it's powered by licensed & regulated online casino software providers.
What are online casino bonus wagering requirements?
Online casino bonus wagering requirements (also known as playthrough requirements) is a term given to the amount of cash that you need to wager before you can withdraw the winnings that you netted from a casino bonus. Wagering/playthrough requirements are fairly standard at almost every online casino in the world, and generally can't be avoided, unless you decline the bonus.
Can the games at NJ casinos be trusted?
Yes. The outcomes are about as fair and realistic as can be. In fact, the average payout rates at online casinos are well-known for being much higher than the average payout rates at land-based casinos. The outcomes/results of the games are produced by Random Number Generators (RNGs) with mathematical algorithm programs that produce no discernible pattern. At most top-rated NJ online casinos, you can expect to find around 93.00% to 98.00% (or more) RTP% payout rates, and at land-based casinos, on average, around 70.00 RTP% payout rates.
How do I deposit and withdraw at NJ online casino?
The good news is that there are now several popular online deposit and withdrawal methods to choose from. At most NJ casinos today, you can choose from several popular online payment solutions such as Visa, MasterCard, American Express, e-check, and PayPal, plus one or two other fast & secure methods can also now be used by NJ players.
Online Gambling Highlights in the US State of New Jersey
Today's best New Jersey online casinos are controlled by reputable operators with proven track records, and they're powered by one or more of the world's best online casino software providers such as IGT Interactive, WMS Gaming, and NetEnt. You can also find games from RTG (Realtime Gaming), Betsoft Gaming, Rival Gaming, and others
Signing up to an NJ online casino is both free and simple, and you can claim a guaranteed new player welcome bonus as soon as your new account has been activated. The types of bonuses that you can look forward to include things such as a no deposit bonus (could be a free $5, $10, $20 or $25 cash bonus), a matching deposit bonus (usually a 50%, 100% or 200% match bonus) or a free spins bonus (anywhere from 10 to 200 free spins to try out a selection of popular online slots)
Get rewarded for your play when frequently gambling in the real money mode thanks to the attractive VIP programs and loyalty comp point schemes. You can also look forward to frequent, ongoing casino bonuses and you can take part in prize-packed promotional offers
Everyone from low rollers to high rollers can enjoy playing at NJ casino sites because all of the games have wide betting ranges, catering to pretty much every budget
A growing number of online casinos in New Jersey also now have a selection of live dealer casino games available, which takes your online casino gaming experience to the next level
You can count on the highest levels of online security, and you'll always be protected in a safe online environment each time you play at any of our featured NJ casinos. The operators utilize the very latest Secure Socket Layer (SSL) encryption technology, they are monitored & regulated by trusted licensing authorities and third-party auditors, and they are frequently tested by renowned online casino testing agencies
You can now use a growing number of popular New Jersey online payment options that enable you to easily make fast and secure deposits & withdrawals to and from your casino account
NJ online casinos today provide round-the-clock player support, and it's toll-free for New Jersey residents. The types of player support methods that you generally have access to are live chat, email and telephone support
You can play on desktop or mobile, and the games usually take just seconds to launch in most web browsers, no download required
Problem Gambling Help in the US State of New Jersey
If you have a problem with gambling, or perhaps you're concerned about a friend or family member that may have recently developed a gambling problem, the good news is that there are plenty of charitable and non-profit organizations that you can turn to today for free advice and support. The Council on Compulsive Gambling of New Jersey (CCGNJ) is one of the most notable such organizations (1-800-Gambler), and since its inception, it has helped countless people recover from problem gambling.
The comprehensive website has a 'Hotline for Hope,' which is free to call 24/7, or you can send a text to this number, and you will be treated with compassion and understanding from a friendly counselor who has been professionally trained to deal with problem gambling issues. You can also click to chat with a live chat support agent if you prefer not to call them or send a text. The website teaches you about self-exclusion from gambling sites, and you can also find several other useful tools such as videos and audio streaming, problem gambling fact sheets, and other materials.
The CCGNJ website (800gambler.org) also has several land-based treatment centers that you can visit across the state, and some of the other services that they provide include Advocacy, Treatment, Training Professionals, Intervention & Outreach, Public Awareness & Information, and Prevention Programs. The State of New Jersey Department of Law & Public Safety and the Casino Control websites also both provide lists of other reputable, non-profit organizations that specialize in the treatment of problem gambling. If you think that you need some time out from gambling for a while, you can also find out more about self-exclusion by visiting the Division of Gaming Enforcement's Self Exclusion Program section.
Some of the other notable organizations that problem gamblers in New Jersey can seek free support, advice and information from are Gamblers Anonymous, Harvard University Medical School - Division on Addiction, McGill University Youth Gambling & Treatment CenterNational Center for Responsible Gaming, National Council on Problem Gambling and North American Training Institute. You won't have to pay, subscribe, or even sign up to any of these websites, and they can always be relied upon to help you or anyone you know who may have developed a gambling problem. Additional resources can also be found abroad, for example, in the United Kingdom, with GamCare and GambleAware among two such examples of prominent organizations that offer similar problem gambling support and free guidance.
US States Where Online Casino Gambling is Now Legal