TopCasino.com
>
United States
> Pennsylvania
Pennsylvania Online Casino Guide
Learn About Legal Online Casinos & Gambling in the State of Pennsylvania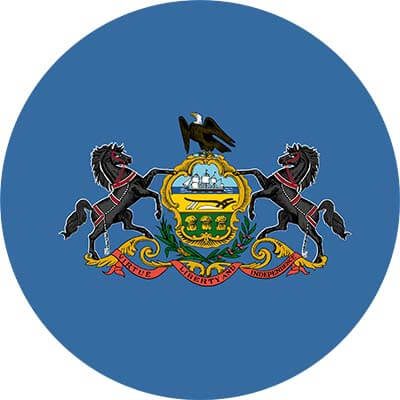 Here you can learn about gambling in the state of Pennsylvania. First, you can find a brief history of gambling in the Keystone State, plus I've also included a section that covers the latest online gambling laws in Pennsylvania, together with an FAQ section and the highlights and benefits of gambling in Pennsylvania. Much further down is a problem gambling section. The legal minimum age required to gamble in Pensylvania is 18 or 21. For example, at land-based and online casinos in PA, you must be 21 to gamble, but you only need to be 18 when betting on the horses at a racino (combined race track and casino).
On this page you will find:
Expand +
Listing of Top Legal Pennsylvania Online Casinos
Below is a listing of all available online casinos within the State of Pennsylvania where you can play legally if you are playing from within the State.
Gambling History in the US State of Pennsylvania
The history of gambling in Pennsylvania that we will be taking a quick look at here is only a recent history. The state residents and authorities are known to have a more laid-back view towards online gambling compared to most other US states, and since gambling in the state has been legalized, revenues from gambling have been used to boost the state's financial deficit, strengthen the economy and generate employment. The furthest back we go is 1971, a time when the government-run PA state lottery was established under Act 91. It was the passing of this particular legislation that then shifted the focus to legalizing casinos over the next two decades.
Initially, residents in the Pocono Mountains Resort Area were opposed to establishing the first land-based casinos, citing the fact that Nevada's gambling industry was predominantly controlled by corrupt underworld figures, and that gambling caused many social problems. There was also a push for gambling on riverboats during 1993 and 1994, but this failed to pass under the newly elected governor for the state, Tom Ridge. In 1999, another attempt was made to try and legalize certain forms of gambling such as gaming at racetracks, video poker at licensed land-based gambling venues, and again, riverboat gambling, but this renewed push inevitably failed too.
Things only really started to change in 2004 when legislators in the state passed Act 71, which is otherwise known as the Pennsylvania Racehorse Development and Gaming Act. This new piece of legislation propelled another movement to try and legalize gambling within the state. It saw the birth of the Pennsylvania Gaming Control Board – an authority that went on to legalize racetracks and casinos. Of course, the main reason was for the sudden change in attitude was the huge revenues that could be generated for the state by the proceeds of gambling, and by this time, there was already a greater acceptance of gambling by Pennsylvanians, especially among the younger generation.
The fear of such gambling establishments being controlled by the Mafia, just as it was perceived by many in the 1970s, had already faded, and such venues were now seen as being run by publicly traded corporations, and so there was a great deal more trust in the industry in general. By the end of 2019, records revealed that gaming machines in the state had climbed to more than one billion dollars and that this astonishing figure was second only to the revenue that was generated by gaming machines in Nevada. The overall success of the Pennsylvania Racehorse Development and Gaming Act (Act 71) led to another push for even more legislation to be passed, and the next bill to be passed was the Truck stop and Satellite casino bill in October 2017. The House had basically passed a bill that would legalize certain forms of online gambling.
Today in Pennsylvania, you can legally place a bet online at numerous state-licensed gambling sites, and the main types of gambling activities that you can participate in include sports betting on most sports, horse racing, online lottery, and online poker. It's also now legal to gamble at online casinos at a growing number of Pennsylvania state-licensed online casinos, but the first regulated online casinos in Pennsylvania didn't officially open until as recently as July 2019. It's also possible to play at hundreds of offshore regulated online casinos that do not operate from within US borders.
Pennsylvania USA Gambling & Online Gambling Laws
Gambling at fully licensed land-based gaming venues is legal in Pennsylvania, and online gambling in Pennsylvania is also legal. On October 27th, 2017, the House passed a bill that would legalize online gambling in the state of Pennsylvania, and State Governor Tom Wolf signed that bill into law just a few days later on October 30th. It's possible to legally gamble at racetracks and at casinos, and as previously mentioned above, at racinos, plus it's also now completely legal to play online slots, video poker, and other games at online casinos. You can also gamble at online sportsbooks, and online poker rooms, but being able to legally gamble online and offline in the Keystone State is still a relatively a new thing.
At the time of writing, there are still only a limited number of state-licensed online and offline gambling venues available for PA residents, but more of these sites will continue to pop up over the coming years. To gamble in the real money mode at online casinos you need to be at least 21 years of age, but you only need to be 18+ years old for certain other forms of gambling such as betting on the horses.
There are no current laws that prevent you from playing at offshore regulated online casinos, and there are hundreds of these gambling sites out there today. Some of the best offshore regulated online casinos that operate from outside of US borders tend to be licensed in the UK (by the UK Gambling Commission), in Gibraltar (by the Gibraltar Regulatory Authority) or in Malta (by the Malta Gaming Authority). You can also find plenty of trustworthy online casinos that are licensed in Kahnawake, Antigua & Barbuda, Curacao, Alderney and the Isle of Man.
The Pennsylvania Gaming Control Board was established in 2004 and this oversees all casinos in the state. The PCGB also authorizes horse race track casinos (category 1), stand-alone casinos (category 2), resort casinos (category 3) and satellite casinos (category 4). Also in the same year, the Pennsylvania Race Horse Development and Gaming Act was passed, and this legalized slot machines at fourteen locations beginning in 2006. It was also now legal for visitors of the state to gamble online and offline too, and you didn't just have to be a resident of Pennsylvania to gamble.
However, before you can gamble, you need to register a real money account at your chosen online casino so that you can start playing in the real money mode. This simple process involves filling out an online application form, and it takes just a couple of minutes to complete. To stop people from gambling illegally across state lines, online technology known as geo-location software is used to prevent this from happening, plus VPN (Virtual Private Network) blockers are also used at online casinos that are state-licensed. If you do use a VPN to try and access a Pennsylvania while based in another state by changing your IP address, your account could end up being temporarily suspended, or worse, blocked indefinitely. The good news though is that you don't have to worry about the police knocking on your door when playing at an offshore regulated online casino because these websites fall outside of PA jurisdiction and there are no laws that say it's illegal to gamble at these foreign websites.
Online Casino Benefits to Players from the US State of Pennsylvania
Here are some of the main benefits of playing at legal Pennsylvania casinos. One of the main benefits is that you're not breaking the law when gambling at a casino (either online or offline) because it's legal to gamble in Pennsylvania. This state is one of just a handful of states where it's completely legal to gamble either at a land-based casino or an online casino (other states are Nevada, Delware, New Jersey, and West Virginia). Online casinos in the Keystone State are free to sign up to, you can take advantage of a guaranteed new player welcome bonus when you sign up, and you can play in US dollars.
The advantages of playing at PA online casino casinos that are fully licensed by the state, and the advantages of playing at offshore regulated online casinos are that you can now play on hundreds of great games either in the real money mode or free play demo mode at any time of the day. Land-based casinos in Pennsylvania mean that there's no need for you to travel to Las Vegas or to another state where casino gambling is real, and in a similar way, online casinos that are currently available mean that you don't have to travel to another state just to place a few wagers online. Pennsylvania residents currently have access to top-rated games from some of the best online casino software providers in the, plus you can also now find live dealer casino games too.
You have the option of being able to play at these brand-new PA online casinos either on desktop or mobile, and the games take just seconds to launch in most web browsers, no download required. You can benefit from wide betting ranges on all games, which means that everyone from low rollers to high rollers can enjoy playing at these websites, plus you can also benefit from some amazing loyalty comp point schemes and attractive VIP programs. That's not all though. In addition to these rewarding VIP and loyalty programs, you can also take part in frequent promotional offers where you can play to win some amazing prizes, and you can look forward to plenty of frequent casino bonuses such as cashback bonuses, matching deposit bonuses and free spins bonuses.
The other things that you can benefit from at Pennsylvania casinos are toll-free player support via email, live chat and telephone, and the fact that you can choose from a variety of popular Pennsylvania online payment options that allow for smooth and secure deposits & withdrawals. You can also play to win some of the biggest online jackpots in the world at each of these websites.
FAQ Useful to Players from the US State of Pennsylvania
Can I legally gamble in Pennsylvania?
Yes. It is legal to gamble in the real money mode at online casinos, sportsbooks, and poker rooms that are licensed either by the state or by offshore regulators. It's also legal to gamble at a growing number of land-based venues such as casinos and race tracks.
How old do I have to be to gamble in Pennsylvania?
The legal gambling age in Pennsylvania varies (either 18 or 21). To play at an online casino or land-based casino, you must be 21, but only 18 if you're betting on the horses at a racino.
What's the best way to choose an online casino?
The best way to choose a reliable online casino in Pennsylvania would be to carry out your own research by doing things such as cross-referencing online casino reviews, checking that it's controlled by a trusted operator with a proven track record and that it's fully licensed by a renowned licensing authority. I would also recommend only playing at an online casino that's powered by leading online casino software providers that are fully certified by trusted online casino testing agencies and licensing authorities.
Are online casino bonuses worth claiming?
You don't always have to accept an online casino, but most of them are worth claiming, especially the ones with little or no wagering/playthrough requirements.
What are wagering/playthrough requirements?
This is a term given to the amount of cash that you need to wager before you can withdraw the winnings that you netted from a casino bonus, and it's generally anywhere from 20x up to no more than 70x times the bonus amount (and occasionally the initial deposit amount must also be wagered too).
Can I play at PA online casinos on mobile?
Yes. All PA online casinos and offshore regulated online casinos are available on desktop and mobile.
Do I have to download any programs onto my computer to play at an online casino?
No. At most online casinos today you can play instantly in your web browser without the need to download or install any programs onto your Windows-operating desktop or laptop computer.
What kind of player support can I expect when I sign up to an online casino?
You can generally count on 24-hour, toll-free telephone support, live chat support and email support.
What kind of online payment options are accepted at online casinos?
You can choose from a wide range of online payment options that enable you to deposit and withdraw with ease and total security at today's best online casinos.
Online Gambling Highlights in the US State of Pennsylvania
You can play on hundreds of popular online casino games either in the real money mode or free play demo mode at a growing number of Pennsylvania state-licensed online casinos and also at numerous offshore regulated online casinos
Residents of Pennsylvania have access to some of the best online casinos in the world, and they are controlled by some of the most renowned online and offline gambling operators in the world
When you sign up to a PA online casino or offshore regulated online casino, you can claim a guaranteed new player welcome bonus. The initial sign up bonus could be a free spins bonus, a matching deposit bonus or a no deposit bonus
24-hour player support is available in English (and other languages), and the most common ways of being able to get in touch with a professionally trained member of staff are via toll-free telephone, email and live chat
Plenty of amazing casino bonuses to look forward to after you have claimed your initial sign-up bonus, plus lots of other ongoing bonuses to take advantage of and frequent promotional offers to sink your teeth into where you can win real-world prizes such as luxury vacations, the latest gadgets, cash, automobiles, and other amazing prizes
Hundreds, sometimes thousands, of online casino games to choose, and the games have often been supplied to the casino by one or more of the world's leading providers such as NetEnt, IGT Interactive, and WMS Gaming. Players in Pennsylvania can also find online casinos with games from Betsoft Gaming, Realtime Gaming (RTG), Rival Gaming, and numerous other providers
You can play to win daily life-changing jackpots that often reach well into the millions of dollars, and in most cases, you can win these jackpots from as little as $0.20 to $.50 per spin
Live dealer casino games also now available at a growing number of PA online casinos (usually only ever available in the real money mode though)
You can count on the highest levels of security at online casinos because they are generally protected by the latest SSL (Secure Socket Layer encryption technology)
Deposit and withdraw at online casinos using a wide range of popular online payment options
Play on desktop or mobile, and play on the games instantly in your web browser without the need to download and casino programs from the internet
Problem Gambling Help in the US State of Pennsylvania
There are plenty of ways to get help if you have a gambling problem in Pennsylvania, and there are lots of useful websites out there today where you can turn to for support and general information about problem gambling if you're concerned about a friend, family member or colleague. One such non-profit organization is the NCPG (the National Council on Problem Gambling), which provides a 24-hour confidential national helpline that you can call on 1-800-522-4700. Alternatively, you can text a professionally trained counselor on the same number, or you can communicate with a friendly person via the live chat feature (npcgambling.org/chat).
On the official NCPG website you can find plenty of useful problem gambling programs and resources, and several other useful tools that are designed to combat problem gambling such as Advocacy, Treatment, Training Professionals, Intervention & Outreach, Public Awareness & Information, and Prevention Programs, as well as advice on self-exclusion programs. There's also the Council on Compulsive Gambling that offers similar help, along with land-based meetings where you can chat one-on-one or in group sessions. Most of you will also be familiar with Gamblers Anonymous, which offers similar services and has frequent group meetings at centers dotted across the state.
You can reach out to Gamblers Anonymous at www.gamblersanonymous.org. There's also Gam-Anon (www.gam-anon.org), which is a self-help organization for the spouse, family or close friends of compulsive gamblers and GamTalk (a 24/7 moderated online peer support forum). One of the other notable organizations is the Department of Drug and Alcohol Programs. You can find out more about the DDAP by visiting the official Pennsylvania Government website or by contacting them toll-free on 1-800-662-HELP. A live chat support feature is also available on this website.
At many of these websites, you can take part in a small questionnaire, with anywhere from 10 to 20 questions, and the answers that you give can tell you whether you have a gambling problem or not. It's also possible for PA citizens to reach out to the wider international community. The United Kingdom, for example, has a couple of similar organizations that you can visit, and the main ones include GambleAware and GamCare. If you think that you or anyone that you care about has a gambling problem, then it would be a good idea to try and get in touch with one of these reputable organizations where you will be treated with compassion and understanding.
US States Where Online Casino Gambling is Now Legal